CELEBRATING SAUCE WITH COLT'S PIG STAND
CELEBRATING SAUCE WITH COLT'S PIG STAND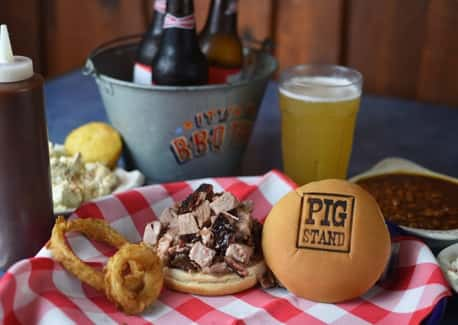 Did you know that March is National Sauce Month? Of course, we don't need a special occasion to celebrate the sweet, savory and always satisfying sauces that make up a delicious BBQ meal here at Colt's Pig Stand.
Just read on to learn more about our mouthwatering selection of sauces, and more information about this essential part of any BBQ spread! Take a look.
The United States of Sauce
Sauce is so much more than a delicious way to dress up your food – it's a way to identify where a specific cuisine comes from as well! For example, BBQ fans in Kansas City tend to love sweet tomato and molasses sauce, while South Carolina offers a flavorful mustard-based sauce for its BBQ cuisine. Even within each of these areas, there are sub-types of sauce worth checking out or recreating right at home.
Our favorite Colt's creations
Here at Colt's, we know that our fine Southern BBQ can only be made better with the right sauce! You'll discover mouthwatering pairings such as…
- Our Secret Sauce: By virtue of it being a secret, of course, we can't share the ingredients that go into this homemade concoction – but we can share that it brings hearty sandwiches like the Fat Boy to life! We love how it cohesively brings together chopped brisket, cheddar and other delicious fixings.
- BBQ Sauce: From our Burnt End sandwich to our Jumbo Chicken Tenders, this classic go-to sauce enhances everything it touches.
- Dipping Sauce: Is your wing style mild, sweet, or hot? Maybe it changes! Switch it up day by day or even enjoy these classic dipping options with some Jumbo Tenders. They help to add a cool, smooth texture and flavorful complement to whatever's on the menu.
Tips for serving up sauce at home
When making sauce at home, opt for fresh ingredients wherever possible – this will give your sauce a flavorful kick!
A fun way to serve up a wide variety of sauces is via a colorful buffet spread. For example, you can plan an entire evening around dippable treats like tenders, wings, chips, cheese sticks, and other goodies, then give your family a bevy of sauce options to select from. It's fun and effortless, the best way to do family dinner.
What's your favorite way to sauce a delicious BBQ sandwich or wings? Let us know and enjoy your go-to flavors at Colt's soon!