3 FRUITS TO TRY GRILLING THIS YEAR
3 FRUITS TO TRY GRILLING THIS YEAR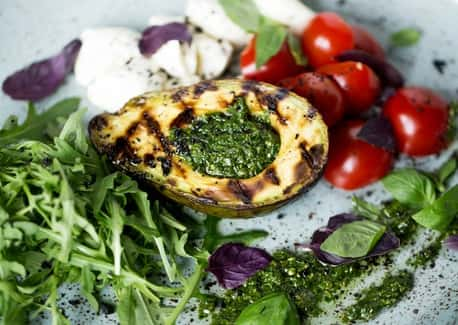 Now more than ever, grilled vegetables and fruits are becoming so much more than mere side dishes for smokey barbecue – they are being integrated as culinary building blocks! 2021 brings with it an exciting opportunity to expand our BBQ portfolios by mastering the art of grilling fruits you may have never even imagined. Continue reading to learn more about the newest trends of fruit grilling this year.
Avocados
This creamy, green superfruit has pervaded so much of modern dietary culture and it is about to expand even further by infiltrating our grills. In addition to adding on a layer of smokey flavor, grilling is also an effective way of ripening the avocado by warming up the fat on the inside, which tenderizes the flesh. Even if you have never grilled an avocado, it could not be any simpler! Cut your avocados lengthwise and brush each cut side with oil, then place them on the grill with peel side up for three minutes – then grab a spoon and dig in!
Tomatoes
Do you keep your tomatoes locked away in a drawer inside your fridge and only serve them cold? By introducing this juicy fruit to your grill, you can unlock another dimension of smoky, jammy, and sweet goodness that is not otherwise possible! Cut your tomatoes through the center, between stem and bottom, and remove all the pulp and seeds. Then, place your tomatoes on the grill skin-side up for a few minutes to unleash a smoky flavor. For extra goodness, try flipping the tomatoes over and adding toppings of your choice, such as parmesan cheese, balsamic vinegar, or fresh herbs.
Eggplant
Featuring a hearty texture that mimics that of proteins, eggplant is the perfect fruit to cook over a grill for your next barbecue. The beauty of eggplant is that you can slice it vertically or horizontally into medallions. All they need is a brush of oil and some light seasoning before getting placed over moderate heat to avoid charring of the outside before the inside cooks through. Overcooking eggplant is difficult, so the trick is to avoid undercooking it!
Impress your friends and family at your next barbecue by mastering these delicious fruits! Try serving them as either smoky complements to a saucy BBQ entrée or grilled appetizers to enjoy alone. At Colt's, we know more than anyone that perfect barbecue requires delicate amounts of seasoning, treatment, and love. When you get that craving for mouth-watering BBQ without any of the work, swing by your nearest Colt's to pick up a full spread of that fall-off-the-bone flavor that is so hard to resist!